Press release: 14 October 2019
British public, health organisations and MPs demand urgent action on air pollution
A growing coalition of leading health, transport and environment organisations, including the British Heart Foundation, the British Lung Foundation and ClientEarth, has ramped up pressure on the government to act on clean air, demanding new clean air laws in the imminent Environment Bill.
The Bill is expected to be announced in the Queen's speech today and introduced later this month in Parliament.
The news comes as a new survey reveals that almost two thirds of the British public think that the UK Government should introduce legally binding targets to lower air pollution to match guidelines set by the World Health Organization (WHO).
The YouGov polling, commissioned by ClientEarth, also showed that over two thirds would support Clean Air Zones that charge the most polluting vehicles to enter the most polluted parts of towns and cities and a clear majority think that the government should provide incentives like diesel scrappage schemes, grants for electric vehicles and tax rebates to make cleaner vehicles more affordable.
Dr Penny Woods, Chief Executive of the British Lung Foundation, said: "These results clearly show the public is behind measures to cut down levels of pollution, including strong new legal limits.
"Dirty air is a danger to everyone's health and can be particularly dangerous for those living with a lung condition. High levels of pollution can affect day to day life by making it difficult to breathe and put people at risk of suffering an attack and ending up in hospital.
"We have more than enough medical evidence to show that action must be taken and now the public has spoken. It's time for those in power to act so we can all breathe clean air with healthy lungs."
The coalition is calling on the government to:
Set stricter legal limits to meet WHO guideline levels for particulate matter by 2030
Establish a new 'clean air duty' that requires all public bodies to actively play their part in delivering solutions to tackle air pollution
Enshrine the right to clean air into domestic law
Simon Alcock, Head of Public Affairs and Campaigning at ClientEarth, said: "There is growing concern about the devastating health impacts of the country's toxic air and people want to see action. The Environment Bill is an unmissable opportunity for the government to show leadership on this key public health issue.
"And central to this has to be a legally binding commitment to meet World Health Organization guideline levels for particulate matter pollution."
Prominent MPs from both sides of the House are also demanding more action on air pollution. In March 2018, four select committees published an unprecedented joint report on how to improve air quality in Britain.
Eighteen months on, in a letter to The Times, they have assessed the progress the government has made against the recommendations in their joint report and are calling for bolder and more urgent action – including stricter legal limits that mirror WHO guideline levels and for the right to clean air to be enshrined in UK law.
Simon Gillespie OBE, chief executive of the British Heart Foundation said: "Air pollution is a major public health emergency which affects all of us, and in years to come will be viewed as one of the scandals of our time.
"BHF research has found that fine particulate air pollution can have a profoundly negative impact on our hearts and circulatory system.
"Taking tough action for cleaner air now will prevent thousands of heart attacks and strokes in the years to come. Public support for action is growing, and we hope the forthcoming Environment Bill will contain the commitments that are desperately needed to tackle this urgent issue."
The UK's existing legal limits for particulate matter pollution are at least two times higher than guidelines set by the WHO. More than three-quarters of zones in the UK exceed these guideline levels, with deeply worrying effects for people's health – particularly children and other vulnerable groups
ENDS
Notes to editors:
All figures, unless otherwise stated, are from YouGov Plc. Total sample size was 1,628 adults. Fieldwork was undertaken between 7th – 8th October 2019. The survey was carried out online. The figures have been weighted and are representative of all GB adults (aged 18+). The survey questions and answers can be found below.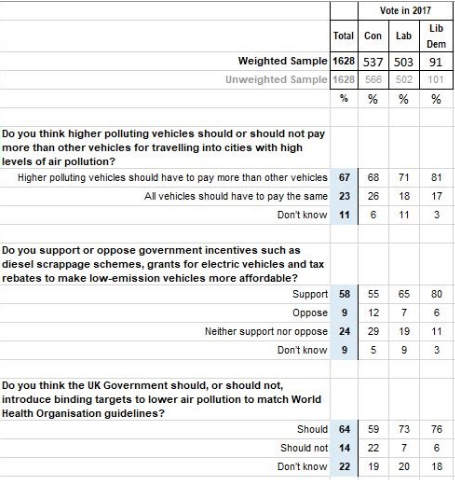 The four MPs are Neil Parish, Chair of the EFRA Select Committee, Mary Creagh, Chair of the Environmental Audit Committee, Lilian Greenwood, Chair of the Transport Select Committee and Andrew Selous, Member of the Health Select Committee
The Healthy Air Campaign coalition includes Asthma UK, British Hearth Foundation, British Lung Foundation, British Safety Council, Campaign for Better Transport, Chartered Institute of Environmental Health, Chartered Institute of Water and Environmental Management, ClientEarth, Cycling UK, Friends of the Earth, Greenpeace, Living Streets, London Sustainability Exchange, Sustrans, Transport & Environment and the Trade Union Clean Air Network (TUCAN).
ClientEarth has previously won three cases against the UK government over the country's illegal and harmful levels of air pollution.
About ClientEarth
ClientEarth is a charity that uses the power of the law to protect people and the planet. We are international lawyers finding practical solutions for the world's biggest environmental challenges. We are fighting climate change, protecting oceans and wildlife, making forest governance stronger, greening energy, making business more responsible and pushing for government transparency. We believe the law is a tool for positive change. From our offices in London, Brussels, Warsaw, Berlin and Beijing, we work on laws throughout their lifetime, from the earliest stages to implementation. And when those laws are broken, we go to court to enforce them.